A new Moldavian cognac "Voitis" from Belalco
06.08.2020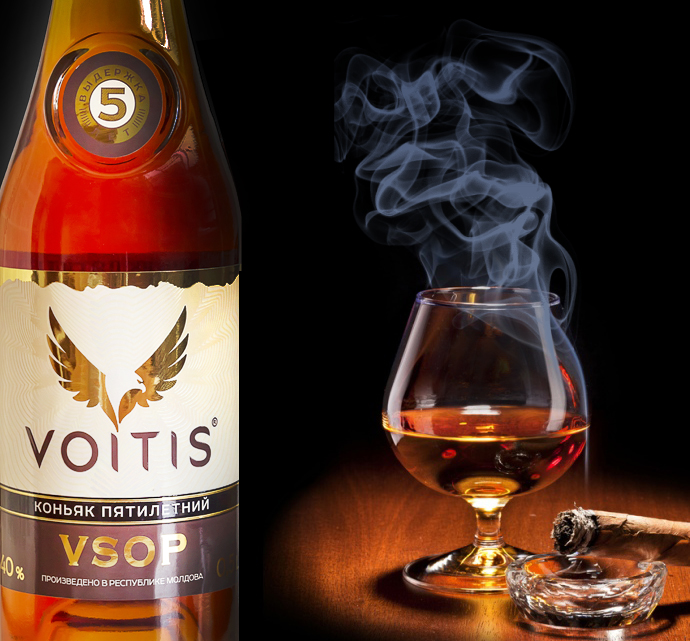 The word "cognac" is in one way or another associated with France and French beverages, so the Moldovans, who have a long and excellent school of growing grapes and making alcoholic products, have adopted a new name for cognac, calling it "divin". Actually, divin and cognac are the same in terms of technology.
Cognacs in Moldova are made according to French technology. After double distillation in copper stills, grape alcohols age in oak barrels for 3-50 years. Then they are blended, sugar (especially Soviet technology) and caramel are often added to give the drink a noble amber color and soften the taste. The finished blend is kept in a barrel for at least a year, so that the spirits "get married" - mixed into a balanced bouquet. Grapes from local vineyards are used as raw materials.
This is how our new VOITIS cognac was created. It is adding well to the line of our Moldovan cognacs. Impeccable in color, complex bouquet of this cognac will delight you with floral-vanilla shades with tones of aging. This is a young five-year-old cognac, which has a harmonious cognac taste and aroma.
The manufacturer of this cognac, MIGDAL-P, was founded in 1995 and includes several modern wine complexes. Located in the center of Moldova, the Codru wine district, just 15 km from Chisinau, this winery has not only a modern factory for the production of wines and divines, but also a tourist complex in the style of the French château, which includes 4 tasting halls, cellars for storing and holding wines, as well as a gallery of collection wines.
It is one of the largest producers and exporters of wines in Moldova with high-performance production equipment and storage facilities of Italian and German origin.
Divin is drunk like cognac - in pure form at room temperature from cognac glasses - snifters. Drink is served before eating, together with dessert or coffee. High-quality divines heat with the palm so that the aroma opens better.
We wish you a pleasant acquaintance.