BELALCO & Inernational Green Week 2013
30.01.2013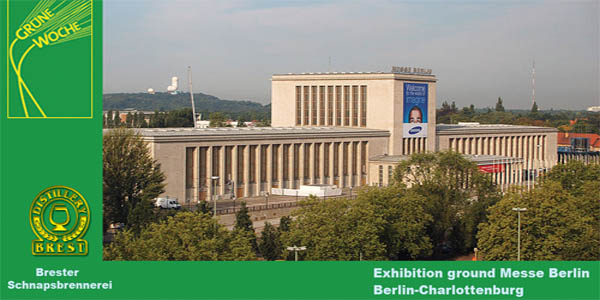 In January BREST DISTILLERY COMPANY BELALCO participated in the 78th International Green Week(IGW) in Berlin. The IGW is the world's biggest fair for food, agriculture, and horticulture and one of the longest-standing fairs in Berlin.

This year Chancellor Angela Merkel , Berlin Mayor Klaus Wowereit and Agriculture Minister Ilse Aigner cut the ribbon at the opening ceremony of the International Green Week in Berlin. With a tour and ribbon-cutting, Chancellor Angela Merkel opened International Green Week 2013. International Green Week Berlin was last visited by a chancellor 30 years ago. "People in Germany like to eat and drink," Merkel said. "It's a good trait that we have."

The IGW 2013 again demonstrated its leading role in the development of world agriculture as 1,630 exhibitors from 67 countries were presenting their products at the exhibition center under Berlin's Funkturm (radio tower) until January 27.

Every year producers from all over the world use the IGW to test-market food and luxury items and establish a brand image. Once again, this year's Green Week has put on a show of superlatives. Brest Distillery Co Belalco is not the exception.

In 2013 the plant presented its products at a separate booth with area of 16 sq.m. Brest distillery Company Belalco presented a wide range of products to satisfy not only spirits specialists, but every visitor. Meanwile, the Ambassador of the Republic of Belarus in Germany (A.Gera) also examined the production of the plant and appreciated its high quality.

No doubt, every year`s participation of the company in the IGW strengthens the position of Belalco at the European market. This time there has been held a series of meetings and negotiations with foreign companies. Some of them has seriously interested in supplying Belalco products. As a result, two contracts have been signed for supplying new products of Brest Distillery Co Belalco to Germany. And some more contracts are now in process.