BELALCO & Yalta. Golden Griffin
12.07.2013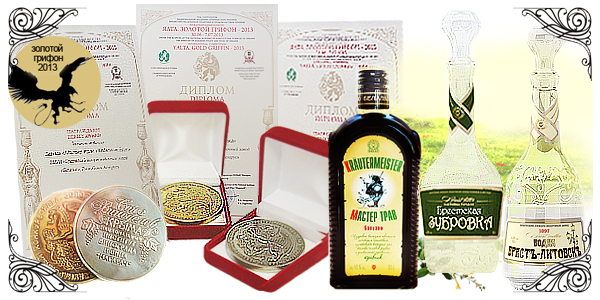 "Brest Distillery "Belalco" has collected the maximum awards at the the international contest "Yalta. Golden Gryphon 2013" in Ukraine.

This year our company has once again received international recognition as all of the samples have been awarded: balm «Kräutermeister. Master of herbs" won the gold medal, vodka "Brest-Litovsk" – the silver medal, and bitter tincture "Brest Zubrovka" was marked with Grand Prix Cup. All of the above nominees are sold not only on the market of the Republic of Belarus, but also abroad.

"Yalta. Golden Griffin "is considered one of the most prestigious and impartial competition. In 2013 the competition was attended by 55 companies from 7 countries (Ukraine, Russia, Belarus, Uzbekistan, Azerbaijan, Moldova, Georgia). In the contest were submitted 223 samples of products. And only 13 of them were awarded the Grand Prix Cup.